Picking the best car cleaning kit of 2022 might seem like an impossible task with so many options out there, but it's not as hard as you think! While some companies claim to have the best car cleaning kit, most of them are selling cheaply made products at exorbitant prices that may not do what they say they will do. Fortunately, we've tested dozens of the best car cleaning kits on the market and have found 6 that are guaranteed to keep your ride clean and shiny all year long! Learn more about these kits below!
Top Picks – Quick Overview
So you're on a budget and want to buy a car cleaning kit that does everything you need? No problem! Each product on our list packs in some great extras, and we made sure to only choose kits that include all-important detailing brushes. That way, you don't have to scour your local stores for them. We think these 6 products are especially good options, but feel free to use our guide as a jumping off point for further research; not every car cleaning kit out there will be right for your needs. After looking through each one closely, we think you'll agree!
1. Chemical Guys 14-Piece Arsenal
Best car cleaning kit overall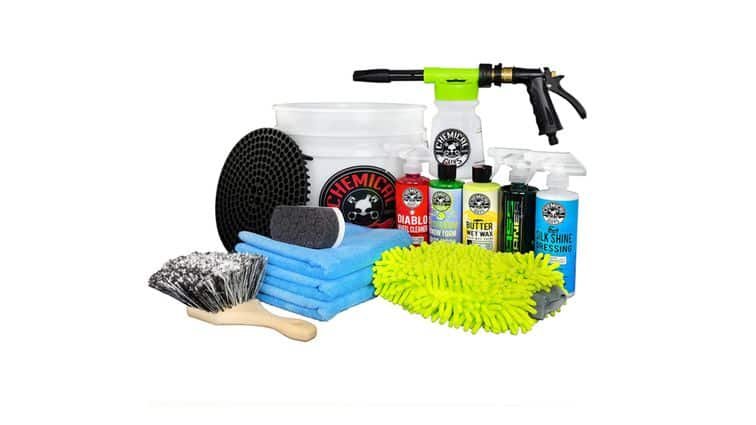 The Chemical Guys 14-Piece Car Professional Arsenal will clean any interior or exterior surface in or on your car with ease. The kit includes a hybrid shampoo, rubberized spray wax, haze remover, foaming detailer, citrus wash and gloss enhancer. You can use it to clean leather seats, carpets and rugs and even your steering wheel cover without much trouble. This is a one-time purchase that'll set you up for years to come if you want everything done well in your car – from top to bottom.
If you don't want to miss out on anything, pick up this product and forget about dirty carpets and seats forever. The kit contains 14 high-quality products for detailing a car in one purchase.
---
2. Meguiar's Complete Car Care Kit
Best car cleaning kit overall runner-up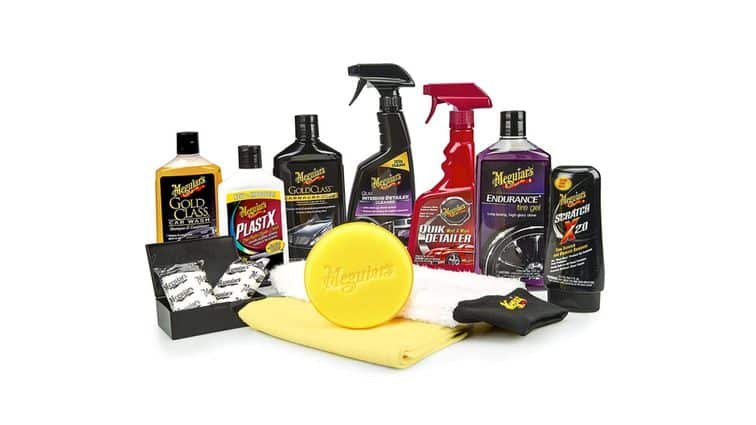 Meguiar's Complete Car Care Kit includes just about everything you need to clean anything inside your car, from dashboards to steering wheels, interior plastics, seats and more. The kit includes everything from degreasers and cleaners that remove grime to protectants that keep surfaces looking new. The best part is that it's got some products geared toward detailing clay (Meguiar's Ultimate Compound) so it can be used on a monthly basis for upkeep or after heavy wear from things like pets or messy kids.
Packing all these tools into one package ensures you won't miss a spot while cleaning and they each come with their own storage case so they stay organized when not in use.
---
3. Armor All Premier Car Care Kit (8 Items)
The most affordable car cleaning kit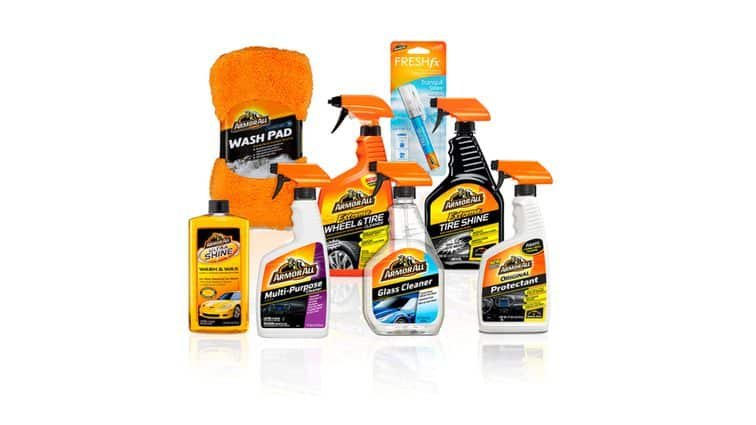 That also includes everything you need to keep your car in tip-top shape. The cleaning kit includes an assortment of microfiber towels that are incredibly soft, absorbent, and durable; a full bottle of Armor All Protectant for all surfaces inside and out; a multi-surface cleaner that gets rid of stubborn messes; window cleaner; deodorizer spray; and two tire shine applicators. Not only will you be ready to clean every inch of your car with these products, but they're also available at a discounted price when you purchase them together.
The Armor All Car Cleaning Kit comes in a sturdy box that has everything neatly organized inside so you can keep everything together. There's also a guidebook included that gives tips on how to use each product effectively, In addition to making your car look great, Armor All Premier Car Care Kit is incredibly affordable and comes with free shipping.
---
4. Adam's Arsenal Builder 21 Item Car Wash Kit
The best car cleaning kit if money is not an issue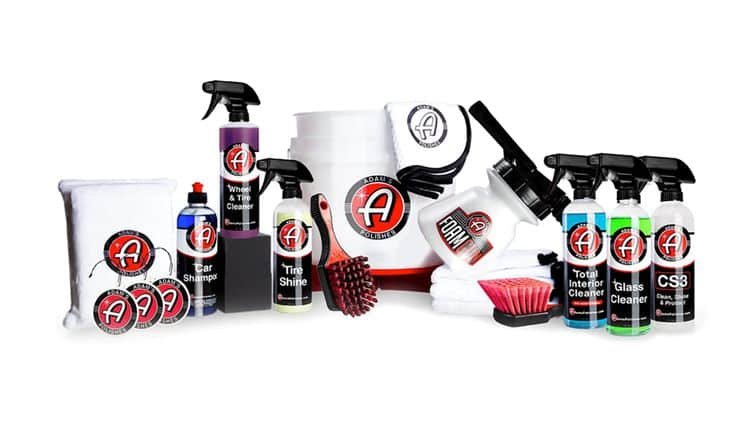 Adam's Arsenal Builder Car Wash is a 21-item car cleaning kit that takes care of everything you need to clean your car from top to bottom. The set includes all sorts of different brushes, waxes, sealants, sponges and cloths that are packaged in a convenient, zipper-up case. The foam interior keeps everything dry and ready for whenever you need it. You'll have plenty of room left in your trunk to store them or lay them out on a towel if you want to wash your car inside. No matter how much dirt or grime gets left behind after washing, it will come off without any issues thanks to Adam's Car Wash.
Yes, it's expensive, but If you want to make sure your car is always looking its best and that you never have to worry about dirt or grime getting left behind, Adam's Car Wash is an essential part of your arsenal. It makes cleaning a breeze and keeps everything organized.
---
5. HMPLL 10-piece Auto Care Detailing Brush Set
Best interior car cleaning kit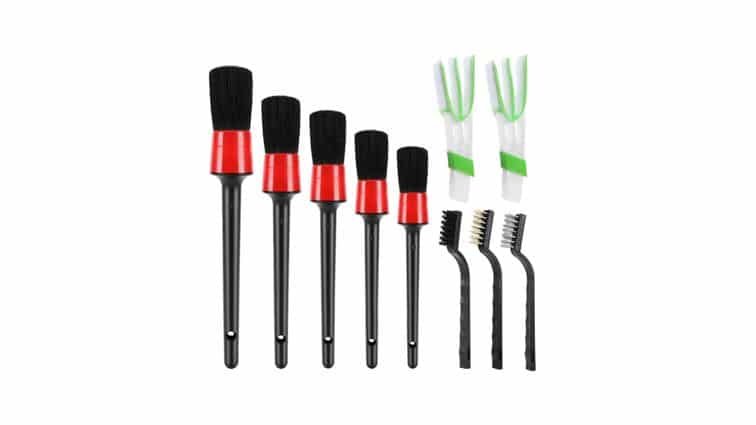 For an interior-specific car cleaning kit, HMPLL's 10-Piece Auto Care Detailing Brush Set is a solid choice. The brushes are made from durable materials and come in a variety of shapes and sizes to help you clean every nook and cranny of your car's interior. You can use them to clean carpets, seats, vents, dashboard knobs—pretty much anything you can think of.
These brushes are made from durable materials that won't wear out over time and will stand up to rigorous use. They're also easy to store thanks to their compact design—you can even keep them in your glove compartment for easy access when you need them.
---
6. Autodeco 25-piece Car Wash Cleaning Tools Set
Best exterior car cleaning kit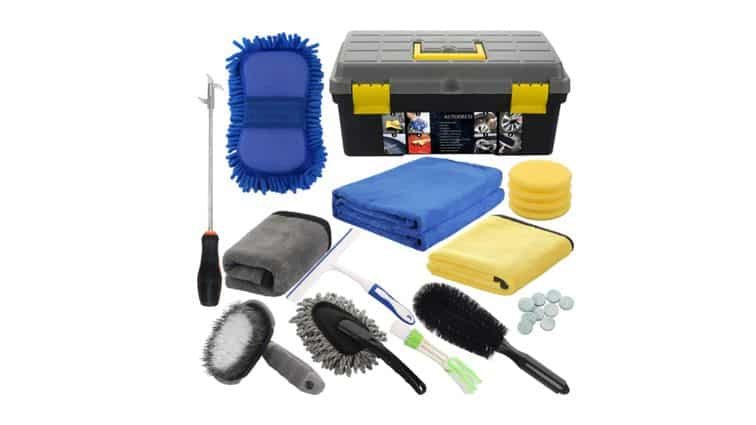 You can't go wrong with this car wash exterior cleaning kit. This set comes with everything from microfiber towels to tire shine, and all of it is guaranteed to last for years, even if used on a daily basis. It's an ideal option for someone who likes to keep their car looking great and would like something that offers them flexibility in terms of how they clean their car (microfiber cloths are a favorite among car enthusiasts). The quality is also top-notch, so there's no chance your car will get scratched or otherwise damaged when using these tools.
The Autodeco 25-piece Car Wash Cleaning Tools Set comes highly recommended by both consumers and experts alike, as it packs a lot into one package while maintaining high quality standards across all products included in the set.
General Tips For Car Cleaning
Make use of a two-bucket wash technique: Fill one bucket with soap and water, and another with plain water. Soak your sponge or mitt in soapy water, then wring it out and wipe down your car's exterior. Rinse off any soap residue with plain water, then dry your car with a microfiber towel. This method helps you avoid swirl marks caused by dirt being trapped in abrasive sponges or brushes. Once you're done washing your car, give it a wax to protect its finish from UV rays and other elements that can damage paint over time. You should also clean your car regularly to remove dead bugs and bird droppings before they have time to mar its appearance.
Wash in the shade: Avoid washing your car in direct sunlight, as it can dry out your paint and make it more susceptible to damage. Instead, wash your car in shaded areas or on overcast days. When you're done, dry it with a microfiber towel to prevent water spots from forming. And remember to keep your car's interior clean by vacuuming and wiping down surfaces regularly. You should also use a microfiber cloth to wipe off any spills immediately after they happen.
Clean interior windows first: The inside of your car's windows can get just as dirty as its exterior, and they're much harder to clean. To make sure you don't miss any spots, start with your car's interior before moving on to its exterior. You should also use a glass cleaner specifically designed for cleaning auto glass. It will leave no streaks or smudges behind when you're done.
Conclusion
Car cleaning kits are a must-have for anyone who wants to keep their car in tip-top shape. The best car cleaning kits thoroughly clean every inch of your vehicle and leave no place for dirt or grime to hide. No matter what type of kit you're looking for, there is an option out there that will fit your needs and budget. Before making a purchase, take some time to think about what you'll need out of a car cleaning kit and then use our guide to help narrow down your options. Once you've found a few that look like good fits, head over to Amazon's product page for reviews written by actual buyers—and always make sure any seller has at least 4+ stars before taking them seriously.